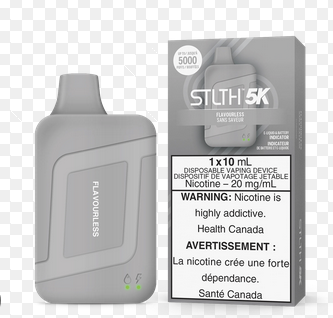 Stamped STLTH BOX 5K DISPOSABLE Flavourless 10ml
Presenting the STLTH BOX 5K DISPOSABLE - FLAVOURLESS, an innovative vaping device that combines cutting-edge technology with a minimalist taste experience. Perfect for those who prefer the straightforward satisfaction of a pure, unadulterated vape, this device delivers a clear and clean vaping experience with every puff.
Engineered to offer a substantial capacity of up to 5000 puffs, this device ensures a lasting and satisfying vaping session. Equipped with liquid and battery indicators, you can easily monitor your usage and charging status, providing you with complete control over your vaping habits.
Each STLTH BOX comes pre-filled with 10 mL of e-Liquid, at a potency of 20 mg/mL, ensuring an ideal balance of simplicity and satisfaction.
Housing an internal 600 mAh battery, this device guarantees consistent and robust performance. The added convenience of its rechargeable feature means your vaping experience is never interrupted.
Specifications:
Up to 5000 puffs

Liquid and battery indicators

Rechargeable

Matte finish (feel and style)

10 mL of e-Liquid

20 mg/mL

Internal 600 mAh