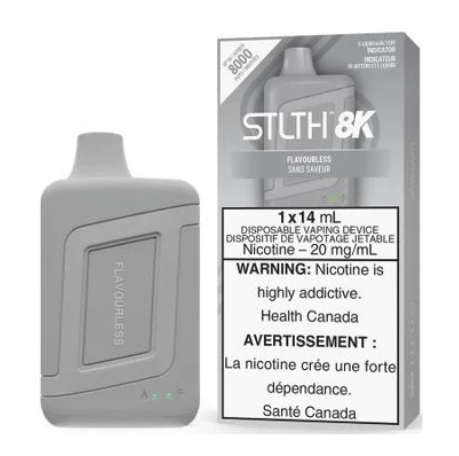 Stamped STLTH BOX 8K DISPOSABLE Flavourless 14ml
 Designed for optimal flavour delivery, performance, user convenience, and longevity, this device will provide an elevated disposable vaping experience with no trade off between quality and value.
Each STLTH BOX 8K DISPOSABLE is prefilled with 14 mL of e-liquid at a strength of 20 mg/mL to reliably deliver up to 8000 Puffs. The device also has a liquid and battery indicator, so you can easily monitor your usage and charging status.
While compact in size, this device is equipped with a superior 800 mAh internal battery for extended usage time between charges. The rechargeable feature of this device allows for uninterrupted enjoyment of your favourite flavour.
Flavour Notes:
Specifications:
Up to 8000 puffs

Liquid and battery indicators

Rechargeable

Matte finish (feel and style)

14 mL of e-Liquid

20 mg/mL

800 mAh Internal battery