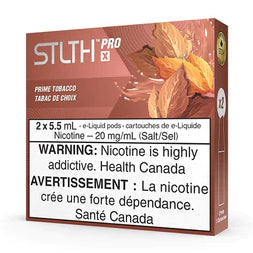 Stamped STLTH PRO X POD PRIME TOBACCO 11ml
STLTH PRO X POD PACK PRIME TOBACCO - Delight in the rich and robust essence of tobacco, delivering a classic and sophisticated vaping experience.
Explore new heights of vaping satisfaction with STLTH PRO X Pods! Exclusively designed to work with the STLTH PRO DEVICE, these pods offer a superior flavour experience and feature an expanded e-liquid capacity of 5.5 mL for greater convenience and extended enjoyment. Through the innovative incorporation of vertical mesh coil technology, STLTH PRO X Pods ensure a remarkable fusion of performance and experience that is comparable to a disposable vape, within a closed pod system.
STLTH PRO X Pods are crafted with a distinctive nicotine blend, specially formulated to deliver an exceptionally smooth experience tailored to adult smokers seeking a simple alternative to traditional tobacco products. 
Features:
Designed for the STLTH PRO Device

Integrated Vertical Mesh Coil For A Superior Flavour Experience

Includes Two 5.5 mL Pod Cartridges Per Pack